Friday 7th August 2000 hours. Briefing for Masters only at Hollowshore

Saturday 8th August

Classes 4 and 5 (Staysail and Restricted staysail barges) Start 0845
Class 3 (bowsprit barges) Start 0900
(Note: other classes of craft also take part in races at times set by the race committee)
Start line between Committee boat and Sand End Buoy. Course likely to be out to a mark in the position of the old Spaniard, in towards Herne Bay and back into the Swale to finish near the entrance to Faversham and Oare Creek. Final decision on courses for the different classses will be announced at the BRIEFING on Friday.
Prize giving in evening after the Match at Hollowshore Boatyard approx 1900. There will be drinks, food and live music.
Race information is available from the Match Secretary: Lena Reekie, 4, The Quays, Belvedere Raod, Faversham, Kent ME13 7LP. Tel: 01795 530309, 07968 058398.
email:
lenareekie@talktalk.net
Match Results 2015
Prizes
Contact
Kentish Sail Association
Barge Matches Page
Barge Championship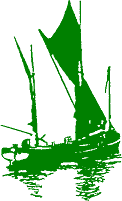 S.B.A. Home